Patrick Mahomes and the Anatomy of a Correlated Parlay
By Matthew Buchalter, PlusEV Analytics
For Torontonians like myself, Buffalo NY is our adopted US hometown. Our cable TV providers carry the Buffalo affiliates of all the US networks. Pre-pandemic we would regularly make the 90 minute drive past Niagara Falls and over the border to shop at the American stores and eat at the American restaurants that haven't yet made it to Canada. (Side note, Canada's first Cheesecake Factory opened a couple years ago in Toronto and pre-lockdown the wait for a table was regularly 3-4 hours. I personally don't see the appeal.) And, until we get our own team, the Buffalo Bills are Toronto's NFL team.
The Bills are up there on the list of sports' most tortured fan bases. I was too young to have much of a memory of "wide right", but I clearly recall watching the Music City Miracle in my parents' basement on their '90s big screen projection TV. With a rising star QB in Josh Allen and with Tom Brady out of the way, the feeling around here was that this may finally be our year. After knocking off the Ravens in the divisional round, we sat back and hoped that the Browns could somehow upset Patrick Mahomes and the mighty Chiefs to put us in a position to be favoured, at home, with a trip to the Super Bowl on the line next week.
And then, this happened.
You always want your team to win, but it's not as sweet when it happens this way. You never want to see someone get hurt, especially with something as serious as a concussion. And if your championship run is helped by someone else's injuries, you have to face the T word forever.
As of the time I'm writing this (Monday morning), nobody knows what Patrick Mahomes' status is for Sunday's AFC Championship game. In the regular season, games have been held off the board for way smaller reasons than this; after all, Mahomes is one of the biggest impact players in the league in terms of the difference in the odds between him being in and him being out. But with the betting interest that comes with a conference championship, the show must go on. And so, here we sit, at Chiefs -3 with a total of 54.
With all the uncertainty in this game, one thing is absolutely certain (feel free to OldTakesExposed me if I'm wrong): this game will NOT kick off at -3/54. There were Chiefs -3.5s and -4s out there as lookaheads before the injury, and consensus is that the Bills would be favoured against Chad Henne. So the current line seems to forecast that Mahomes is more likely to be in than out. When Mahomes' status is eventually revealed, expect significant movement one way or the other in both the spread and the total. And this sets up my absolute favourite thing in all of sports betting analytics: the correlated parlay.
The Theory
The payout for a parlay is normally calculated as the product (in decimal odds) of the individual legs. So, if the side and total both pay -110 = 1.909 on each side, all four combinations of side + total would pay 1.909 x 1.909 = 3.645.
Multiplying the odds together is the correct way to calculate a payout that's proportional to the probability of the individual legs all winning…under one condition. The legs must be uncorrelated with each other, meaning that none of the outcomes have any impact on the likelihood of any of the other outcomes. If the outcomes are "positively correlated", meaning that they are more likely to happen together than individually, then the payout will be too high and could potentially result in +EV. If the outcomes are "negatively correlated", meaning that they are less likely to happen together than individually, then the payout will be too low and if you want to bet them you should do so individually, NOT parlayed together.
Usually, books allow the side and total to be parlayed together on the same game without worrying too much about correlation because in most cases either it's not there or it's too small to make a difference. There are some instances where books will prohibit these parlays, e.g. an extreme mismatch where the spread is 28 and the total is 45, but that's not the case here. The correlation here comes from the dependence of both the side and the total on Mahomes' status. If he plays, KC -3 and Over 54 will each both be more likely to win than lose. If he sits, Buffalo +3 and Under 54 will each both be more likely to win than lose. It's a textbook example of a correlated parlay. So what's it worth?
The Numbers
Let's start by estimating the conditional probabilities assuming Mahomes is in, and assuming Mahomes is out. NOTE: I am not a handicapper so these numbers are my guesses for the sake of explaining the math, feel free to replace them with your own numbers. Also I'm ignoring pushes to keep the math clean.
These numbers imply a 2/3 probability that Mahomes plays (2/3 * 55% + 1/3 * 40% = 50%).
Now let's calculate the probabilities for the parlays, starting with KC -3 + Over 54. We do this by taking the product of each set of conditional probabilities.
Probability of KC -3 AND Over 54, conditional on Mahomes in = 0.55 * 0.55 = 0.303.
Probability of KC -3 AND Over 54, conditional on Mahomes out = 0.4 * 0.4 = 0.160.
Probability of KC -3 AND Over 54, unconditional = 2/3 * 0.303 + 1/3 * 0.160 = 0.255.
Probability of KC -3 AND Over 54 = 0.255 * 3.645 – 1 = -7.1%
If there was no correlation, the probability of the parlay would be simply 0.5 * 0.5 = 0.250 and the EV would be 0.250 * 3.645 – 1 = -8.9%, so the correlation helps…but just a little.
Repeating for all four possible parlays:
You can see which parlays are positively correlated and which ones are negatively correlated by comparing each of their EVs with the uncorrelated case of -8.9%.
So with my rough guesses for the conditional probabilities, the correlation is nowhere near enough to get us to +EV. What would it take?
You'd need something like this: a 62% probability for each of KC -3 and over 54 with Mahomes in, and a 26% probability for each of KC -3 and over 54 with Mahomes out. So very roughly you'd need the line to be KC -6 / 58 with Mahomes confirmed in and Buf -3 / 46 with Mahomes confirmed out. I don't think we get there.
So while this parlay is correlated, as a +EV betting angle it's about as useful as a bottle of sunscreen on a January day in Buffalo.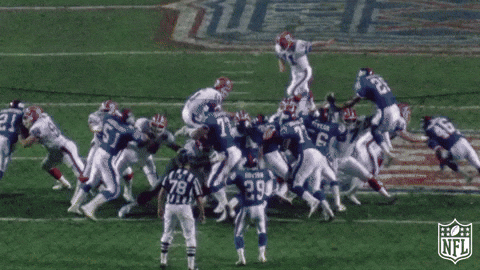 Copyright in the contents of this blog are owned by Plus EV Sports Analytics Inc. and all related rights are reserved thereto.